I was intending to return to W. G. Sebald's masterpiece, The Rings of Saturn, when I decided I should first read The Emigrants, a book I had started at least once before and never finished.   Like all of Sebald's novels, I found The Emigrants hard to navigate, not because it's "difficult" (though its long paragraphs and lack of quotation marks can be daunting), but because its insistent clarity makes it oddly easy to lose one's place, to let one's attention wander, and to forget—all essential concerns of Sebald's narrator. The novel is rigorously melancholy in content, but rigorous in many other ways: to read it well we must remember, even as the book is designed (I believe) to press us toward forgetting. And so the process of reading that it demands becomes an enactment of what it is about, which might be one way of identifying a masterpiece.
I've just started Stay, Illusion!: The Hamlet Doctrine, by Simon Critchley and Jamieson Webster, a much friendlier book, as well it might be considering that it's about the most mysterious play ever written. I have yet to encounter an overall argument in Stay, Illusion! and hope I will not. The authors' linked observations are like comments from the most brilliant student in class—witty, insightful, annoying, suggestive, irritating, rewarding, frustrating—and so on. The word I might finally settle on is provocative, which I intend as very high praise for literary criticism.
The book that stays on my bedside table (and has for a long time) is David Thomson's "Have you Seen…?" : short comments on 1,000 films. (Thomson has seen so many movies one wonders if he has ever experienced daylight.) Thomson's style is elegant, and his responses can be quirky, but they are always challenging. Also fun to read. I was deeply saddened by his refusal to like Fellini's 8 ½, a favorite of mine, which I am now a little afraid to watch again, but I was also cheered when he could persuasively point to all of the exciting aspects of Arthur Penn's little-known Mickey One.
Turning to poetry, I want to praise, first of all, Stephen Dunn's latest collection, Lines of Defense. Dunn is sometimes accused of being "accessible," and he is, or seems to be, the way Robert Frost is or seems to be accessible. Yet both poets' best poems are sly, crafty, and philosophically demanding. Dunn's work is far from what appears to be the dominant style of our moment—the so-called "experimental poem," which is opaque, academic, coded, voice-less, afraid of narrative, and unrewarding in any way I would wish to be rewarded. Dunn's complex lucidity makes us think, but refuses to congratulate us on our thinking. His poems surprise us into knowing what we thought we already knew.
Finally, I wish to mention David Ferry's wonderful Bewilderment, which is, like The Emigrants, a deeply melancholy book, but never a depressing one. These are poems of enormous tact and reticence, which—perhaps paradoxically—make them all the more powerful and heart-breaking. And I can't help but add that frequently (especially when I'm teaching) I turn with renewed pleasure and admiration to almost anything by Tony Hoagland, Dean Young, and James Tate. What continually instructs and delights me are the ways these poets move around in their poems, the strategies they develop to keep disparate materials from flying apart, and of course their considerable humor, which usually opens up to reveal the seriously troubling ways in which we find ourselves living at this moment, and thinking, and trying to read, look, and remember as best we can.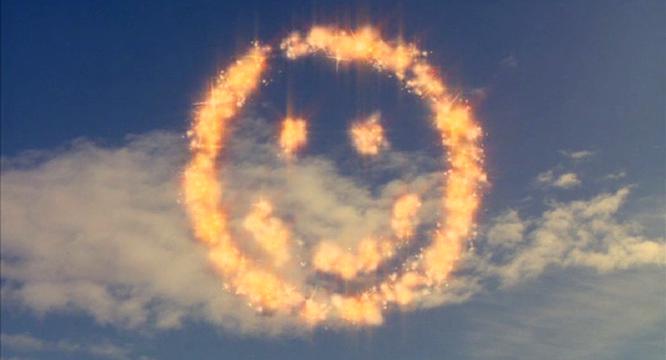 If you have nothing with which to pay, why should your bed be taken from under you? Proverbs 22:27
Perhaps the greatest American film, Smiley Face (2007, dir. Gregg Araki), like many of the stoner comedies that I have seen, narrates the events of one long day. What can we say about this day? Well, it's a weekday for one thing. And with an emphatic shot of a vintage clock, we know it's relatively early.   Jane (Anna Faris) is sitting on the couch in her living room, smoking weed out of a bong and playing a video game on her laptop. The scene is sweet and calm, Jane high and happy. Money—I mean disaster— has not yet entered her morning. Until it does, Jane's day is pristine.
But it doesn't take long for her mellow to be harshed. Jane is high. And hungry. Eager to tend to her own reproduction, she opens the refrigerator. In there, she sees a tray full of delicious looking cupcakes which her roommate Steve has baked for the sci-fi nerd convention he's hosting later that night in their apartment. And while Steve's taken care to adorn the cupcakes with a sign specifically forbidding Jane from eating them, she can't resist. "I'll just bake some new cupcakes for Steve," Jane thinks, thus establishing what she thinks will be a benign domestic debt. This debt will have terrible consequences.
For a little while after she passionately devours all of the cupcakes, Jane realizes "the true nature of the cupcakes." She becomes about as stoned as a character in any film has ever been. Time simultaneously dilates and contracts. Somehow, after a frozen spell, she's able to begin formulating a way to pay her way out of this debt. This, of course, will also require spending money, as weed cupcakes include one niche ingredient. She calls her weed dealer, whose name is also Steve.
The exchange with Steve the Dealer is the first inkling in Smiley Face of the film's central themes, which are crises of money, labor, and reproduction. Sitting on the couch together, sampling Steve's wares, he delivers a brief mansplanation on the praxis of weed dealing itself, as "Reaganomics." Jane, incredibly high as she is, demurs, retorting that Steve's offering goods for a price is "simple laissez faire capitalism." Steve foolishly dismisses Jane's argument by asking shittily, "what do you know about economics?" "I majored in economics," Jane says.
This conversation sours Steve, and as he leaves he demands that Jane pay him the full price for the weed she has purchased to bake Steve's cupcakes. When she protests that she's out of money, he threatens to repossess her most prized possession: her bed.   Steve demands she meet him in Venice at the Hemp Festival to hand over the money.   While it's been a challenging morning, Jane's plan is still intact. All she has left to do is bake the cupcakes, go to the bank machine to withdraw the money for Steve the Dealer, pay him off, and life presumably resumes its easy, stoney tempo.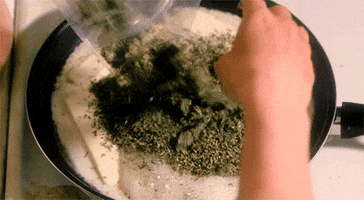 But once again, the money economy intrudes on Jane's plan. For as the butter melts in a skillet on the stove, huge tufts of kush incorporating into fatty foam, her agent calls to remind her that she has an audition that morning. Forced to attend to the conversation with her agent (which she is far too high to conduct), the butter /weed mixture on the stove first scorches, then burns irrevocably. This forces Jane into yet another set of economic transactions. She has a reserve bag of "government weed," which she is now compelled to sell, in order to purchase more weed, pay off Steve, bake more cupcakes, and thus settle both of her new debts.
The rest of Smiley Face narrates Jane's thwarted odyssey. Everywhere she travels, she is confronted by a host of external obstacles to her flourishing. Bosses and cops proliferate in every site she visits, all successful in delaying Jane from accomplishing her otherwise straightforward agenda. Of course, as with every stoner comedy that I have seen, there are internal obstacles as well. Jane is unbelievably high, and makes very questionable decisions.[1] As well, as the scenario becomes thornier and resolution much more unlikely, Jane begins to exhibit signs of paranoia and despair. These episodes are quickly forgotten, but haunt Jane's movements as the film progresses.
Smiley Face is remarkable for a number of innovations in the stoner comedy genre. For one, while Jane occasionally tries to find a buddy to help her solve her fiscal crisis, she finally undertakes this odyssey all alone. I've already mentioned the incredible homosociality of the stoner comedies that I have seen, and Jane is the first—and as yet only—female lead character. Spoiler: Jane unlike all other stoner comedy protagonists does not manage to overcome the obstacles set against her. And surely Smiley Face is the only stoner comedy to incorporate a manuscript of Communist Manifesto as a key Macguffin. But one thing that Smiley Face and almost all other stoner comedies I have seen have in common is that nobody goes to work.
If characters do work in stoner comedies, the events of their long day or night are often the catalyst for quitting or losing those jobs. Chester and Jesse quit their jobs in Dude, Where's My Car? Kumar perpetually sabotages the realization of his father's dream that he become a doctor, while Harold is empowered to shout down his boss in Harold and Kumar Go To White Castle. In Smiley Face, Jane not only fails to land her audition, she accrues escalating social and financial debt, and ends up in prison.
The problem of work is another theme which can be found in Odyssey. Odysseus, as a feudal lord, obviously doesn't have to "work" in any legible sense of the word. And even when he returns to Ithaca and needs to disguise his identity, he appears as a beggar in drag, rather than a swineherd or laborer. This idleness is not finally permissible. Odysseus pretends to require the philanthropy of the suitors, and is compelled in turn to entertain them with minstrelsy. It's when he "quits his job" near the end of the poem that his ultimate victory is assured.
But, of course, Jane is not Odysseus. Odysseus is a land-rich noble with great possessions, movable and immovable capital, a crafty motherfucker with a taste for blood and revenge. We on the other hand are Jane, forced to decide between a comfortable and delightful bed, or weed cupcakes. Two things no human should be deprived of. Is it any surprise that so many of us, exhausted, depleted, wasted by the jobs we're forced to procure and maintain—often because of the contingency and demands of outlandish debt—want to cap the long day with a long hit of Romulan?
The stoner comedies that I have seen adapt themselves to this brief window of the work-evening, insinuating that we must change our lives. We must make them more rich with friendships. We must deprive the reign of wage. We must not jeopardize the journeys we dream of completing because of any fucking cop or boss who intervene to stop us. Perversely, stoner comedies may suggest that weed is another obstacle to our flourishing. But who would want a life without a few hijinks? Just be careful of strange cupcakes. Be careful of paying suit where you aren't welcomed. Be careful of guys named Steve.
- BRANDON BROWN
Brandon Brown is the author of three books of poetry, most recently Flowering Mall.  He writes about art and culture for Open Space, the magazine and blog of the SFMOMA and Bay Area journal Art Practical.  He is an editor at Krupskaya, and occasionally publishes small press materials under the imprint OMG!  In 2014, Big Lucks will publish a new book, Shadow Lanka.
[1] Even past decisions come back to haunt her on this long and arduous day. Standing in front of the ATM, she finds that there is no money in her bank account. At first shocked, she recalls a day in the near past, when, also utterly high, she spent $1,000 on that prized and delightful bed.
Poets.org looks different these days! Congratulations on the redesign, and Happy Anniversary! If you're wondering about the backstory, see below.
The Academy of American Poets, the nation's largest membership-based nonprofit organization promoting poets and poetry, marks its 80th anniversary in 2014. To celebrate they're rebranding and launching an entirely redesigned website Poets.org on April 30, 2014 to close out National Poetry Month.Over the past 15 years, Poets.org has become one of the world's leading online destinations for information about poets and poetry, with tens of millions of visitors coming to the site each year.
The organization worked with design firms Project Projects and Commercial Type to restore the classic American font Electra for use on the web, and enhance mobile viewing, navigability, and sharing experience so that users viewing from their phones, tablets, laptops, or desktops will all enjoy the same experience and share poems easily across social media platforms.
 In addition to the signature collection of poems, biographies of well-established poets, and reference texts Poets.org is known for, the new site will feature new content including:
Geographically relevant information (such as local poetry events and organizations)
Essays on poetic terms and techniques
In-depth video interviews with renowned poets
Free lesson plans tailored for K-12 teachers (offered in partnership with 826 National)
Poets.org is the most popular publicly-funded website for poets and poetry, and the redesign has been supported by the National Endowment for the Arts, the Lannan Foundation, and many generous individuals, as well as members of the Academy of American Poets.
Check it out yourself:
Today's Vintage DB is special in that it is sort of a double-vintage since it is a translation of a poem originally written by 19th century French poet Arthur Rimbaud. Mark Spitzer's new translation of the poem first appeared in DB 5, WInter 2002-2003, as an excerpt of his then-upcoming book of translations of Rimbaud's work.
"The frenzied masses clawed the sky, opened their
throats, and cried for worms. Five loaves made with
rancid barley were divided among the throngs,
delirious in the rays of the blinding sun."
This vintage selection as well as others can be found in Mark Spitzer's From Absinthe to Abyssinia: Selected Works of Arthur Rimbaud. Spitzer is currently a professor of Writing at the University of Central Arkansas as well as Editor in Chief of Toad Suck Review. In his spare time he enjoys catching frighteningly large fish, which you can learn more about on his website: www.sptzr.net
Click to read the translation of Rimbaud's "Evangelical Poem #4″
Did you know?
We've launched our inaugural Drunken Boat poetrybook contest. Drunken Boat seeks entries for our first book contest in poetry, open to any work of poetry in English (hybrid, multi-authored, and translations into English are welcome). Winner receives publication, $500, 20 author copies, a debut reading at AWP and ads in print and online sources. Though we welcome multi-author and translation projects, we can only afford to pay one honorarium (which may be split as authors / translatorsprefer). Drunken Boat books are distributed by SPD. Excerpts from all finalists judged in house by the Drunken Boat staff will be featured in a special folio in an issue of Drunken Boat, international online journal of the arts. Deadline is June 25, 2014. Judge: Forrest Gander. For more information, visit https://drunkenboat.submittable.com/submit/27945.
Got art? Special Call, Poetry Comix folio. We are issuing a special call for comics, animations, video art and illustrations for a special Poetry Comix folio, to be guest-edited by Michael A. Chaney and Marco Maisto. Along with short animations, we are open to static comix (especially comics poetry) as well as more dynamic, web-based and digital graphic novel constructions. Particularly for comics poetry, we are more interested in work that expresses itself as comics and poetry simultaneously, rather than work that merely illustrates a poem. We want work that makes the relationship between language and art more tense than intuitive, more associative than referentially grounded.  The potential crossover between literary and visual art is a rich, ever-expanding horizon, and we'd like to capture snapshots of it in this anniversary issue. So please do send us your best work. If you have poetry or flash fiction in the form of comics or a multimedia/animation project, we want to see it! Deadline is May 15, 2014.
Special Call, Affrilachian Arts folio. Drunken Boat is also calling for submissions of literary and artistic pieces created by, or inspired by, voices of color from the Appalachian region for an Affrilachian Arts Folio, to be guest-edited by Kalela Williams. We are especially looking for work that juxtaposes place and displacement, questioning and confronting how one shapes cultural and personal identity within a physical setting. Submissions of prose, poetry, art, or performance-based work (such as spoken word poetry) will be accepted. Deadline is May 15, 2014. Submit previous unpublished (or published in a small circulation print journal) work as a Microsoft Word attachment, or audio/video links, along with a short bio, to paintedplume@gmail.com.