Last time around I walked you through my revision process for "As I Write This," before it was published. As you'll see in this post, I didn't stop revising the poem once it was published. It's something I do all the time—a perfectionist tic, I guess—though it's rarely anything more than a waste of time. Once "As I Write This" entered the world my revision process took a sort of desperate turn, before I decided I didn't want the poem to exist anymore and I gave up.
I sent my fourth draft of "As I Write This" to Sink Review, who published it in March 2013. At that point I had recently taken up the practice of emailing links to newly published work to people (those I know personally, at least) whose names appear in a piece, along with those who I thought about while writing it. Though I composed an email for "As I Write This," even after Sink put the piece online I still didn't send out the link. For months I'd see the subject "As I Write This" in my draft folder and I'd think, "Oh I should send that out," but I never did. It's hard now to not see my procrastination as a symptom of my sense of failure—like I already knew the poem failed before its failure was "confirmed" for me socially.
(I put scare quotes around "confirmed" because I'm resistant to the idea that the responses the poem generated determined its failure—even though it was through processing the responses that I came to feel the poem failed.)
It took about five or six months before anyone talked to me about the poem. During those months—last spring—I received a lot of responses, both positive and negative, to "The New York School." Processing those responses gave me fuel for writing two other prose pieces, "David Wojnarowicz at the Movies" and one called "The Poet" (which is still unfinished). Then sometime last September I got a phone call from my friend Jordan Stempleman.
I can always count on Jordan to be straightforward with me. It's one of the things that makes him a true prince. Since I started publishing poems with lots of names, Jordan has consistently plied me with questions of the ethical implications of naming, of writing about living people publicly—and of my iffy taste level. He characterized the gossipy aspects of my work as "locker room talk" (which amuses me since I've never been anything close to a jock).
With this phone call, Jordan reported that I had hurt someone—a close friend of his, an old acquaintance of mine—with the line "I don't care about you James Tate." Jordan, I think, felt torn. One of his friends was hurt by another, and he was left with a feeling of discord. I felt bad. Though I'm not the best at pleasing others with my work, I don't want to hurt anyone. It's not my intention. After talking to Jordan my Freshman Composition Teacher Voice kicked in and asked some basic questions: OK Joseph, why don't you care about James Tate? How does your lack of care manifest itself? Describe it. Be specific.
But it isn't worth describing because the line doesn't do much. And it doesn't do much because it doesn't go there. As a thought it's about as fully formed as a gangly teenager's beard. The part of the poem with the line was this:
when you close your eyes and you fall asleep
I don't care about you James Tate you'll be
forgotten, mom and brother
and father, my dead brother and
my brother and my brother and me
This was sloppy—literally careless—as the carelessness seeped past James Tate into all those who follow—my family and myself—and by extension everyone named in the poem. It undermined that sense of our essential loneliness—a loneliness we all have because we know we'll be forgotten eventually. Which is to say it infused the beautiful silence of forgetting, of nonexistence—something that should be a source of comfort—with a bleak sense of alienation.
As I consider this part of "As I Write This," I keep thinking about a certain passage from "The New York School." Judging from the flecks of gossip I heard, from conversations and emails, I'd say the passage seemed to offend just about everyone I know (and others I don't). But, comparing it to the James Tate line in "As I Write This," I feel the passage does its job because it does go there—and that was my task in "The New York School." Here's the passage:
"I often wonder about the flirtations between Ted Berrigan and Alice Notley, when Berrigan was visiting faculty at the Iowa Writers Workshop and Notley was so young and full of admiration for the wily New York poet. She must have wanted so badly to be part of the poetic life of New York City, to be filled with the breath and babies of this poet named Ted, who was 11 years her senior, and Berrigan I'm sure loved fucking Notley (they were both Scorpios) and he loved knowing Notley would probably cook him dinner and she'd listen to all his new poems afterward as if she's hearing the true secrets of the pope's depravity. Iowa is directly in the middle of the country, and when I went to the Iowa Writers Workshop—that's right, I really went there—one day Mark Levine performed a close reading of "The Day Lady Died," and Mark kept repeating the line "I don't know the people who will feed me" as if it was the most profound thing O'Hara ever wrote, and I sat there wondering if Mark would be a better poet if instead of fucking Jorie Graham he got fucked by Ted Berrigan and most poets don't have a vision, but I do, it's clear and conflicted and it's radiantly directionless."
Brett Price, responding in ON, called me out for my poor taste and implied that my writing "The New York School" was motivated by a sense of envy. I do not deny my bad taste—I think it's getting worse as I age, actually, and this only makes me feel more like myself. It makes me feel good. Like the whole world's my well-tailored suit (and I'm wearing the same pair of dildo panties beneath it for the fifth day in a row). As to the issue of envy, I think it's too easy to assume that that's what motivates one poet's negative depiction of another. It's an assumption that lacks imagination—and imagination is what I'm asking of my audience. Isn't that what any of us are asking for?
I want to say to Brett directly: I was very touched by your piece, by its care, and I think that you deserve more of a response than this. That will come.*
In Anna Vitale's performance for the Brooklyn Poetry Summit this past weekend, she started off her reading by saying that she thinks more of us should be talking about our shame publicly. I totally agree. If we imagine shame, if we include it in the spectrum of what we imaginatively project—it can only aid our necessary transformations. It's too common, too safe, and too boring to defer to tastefulness. There are no stakes in tastefulness—unless you're more interested in generating capital (social, or otherwise) than in activating transformation. And isn't that what we all set out to do—to transform ourselves? Why else would anyone bother with something as ridiculous as poetry? The longer I do it, the more I feel it's truly the lowest of all the arts—and there's nothing romantic in being the lowest. But, for those of us lingering down here, poetry can be a real space for the transformation of our various senses of guilt, fear, hatred, shame, confusion—stuff like that. The shit. The social element to this shit is key, in that we learn how to transform ourselves by reading and talking to our idols and teachers and friends. And that's what I addressed in "The New York School"—I named idols and teachers and friends. I was the pupil spelling out what I had learned from them.
I wrote "The New York School" about six months after "As I Write This"—though the former was published first. Now it's clear to me that "As I Write This" was just a warm-up, I was on the way to something else. Which is why, after my conversation with Jordan, when I started revising "As I Write This" again, I was fucking up. I was trying to "fix" something that was gangly, ugly, maybe boring—but it wasn't broken.
Over the next several months (between September and December) I ground the poem down, in several drafts, to a single squeaky and emaciated page. Whatever thought was embodied from that first moment over a year earlier, sitting on my bed with "For Kate I Wait," spacing out with my notebook, was gone. Meaning: I lost touch with the original impulse of the poem. What started off as a process of listing names and associations of those names—a pretty simple action, really—became mired in bad feeling. I hated seeing certain names in the poem. It's a danger of using names, or of writing about people in general: things change, people change, relationships change. I wanted "As I Write This" to change too.
Not long after I talked to Jordan I got a phone call from someone else who didn't like seeing their name in the poem. So I took it out. Then I started taking out all kinds of things—anything negative, anything associated with the excised names. The poem was shrinking, crippled. It just so happens that the second person who called teaches in the same classroom I do. A couple weeks after our phone conversation, when I got to class I noticed a diagram on the board, leftover from their class. The center of the diagram read NAMES, with arrows pointing outward to various attributes of names and naming. One of the arrows pointed to the phrase: "some people just ruin names." The diagram stayed on the board for the rest of the semester, as I ripped apart "As I Write This."
Of course, all of this was happening in private as the poem was up on the internet for anyone to see. I was chopping the poem up, cutting lines, rewriting it by hand. I thought for a while that the real reason it didn't work was that it was meant to be a handwritten poem, a little piece of wilderness. But after writing it out in my madman scrawl again, it became clear that my scrawling was a method—not a style. Then, just a few days before this past Christmas, I received another phone call about the poem—this one from my ex-landlord, whose full name and address were in the poem.
Unsure at first about why my ex-landlord was calling, he started telling a longwinded story about a relationship of his that just ended. The reason, he said, is that the woman he was seeing was convinced that he was a philanderer, that he was staging orgies in his building—so she dumped him. While he was telling me this, I started to remember the following lines (which I've censored here) from "As I Write This":
and I haven't heard CA having sex
upstairs in a while, I can hear DB
and Kristen and Isabel and Iris and Jamie
everybody else is having sex at
XXX Irving Ave Brooklyn New York 1123X
Oh. All my neighbors—whose sexy times I had overheard at various points in the three years I lived in that building, with its super thin walls—were actually having an orgy to my ex-landlord's now ex-girlfriend, and this was evidence. Whoops. That was certainly not an effect I imagined this poem would have. Though I can see how she read it that way—the grammar suggests it.
My ex-landlord asked that I change his name and take out the address. But that was it for me. I was done. That very moment I wrote to Dan and Steve at Sink Review and asked them to take down the poem, which they did the next day.
So, there we have the sad history of "As I Write This." In my final post I will share the list I promised—all the reasons I've thought over the past four months of why the poem failed. Thank you and see you soon!
- JOSEPH BRADSHAW
Joseph Bradshaw is a poet, educator, and archivist. He is the author of several chapbooks, as well as the full-length In the Common Dream of George Oppen (Shearsman Books). He curates a readings series at Berl's Poetry Shop in Brooklyn called Leslie Flint Presents, and is at work on a book about the afterlife of the New York School.
* I could write something like what I'm doing now with "Total Fail" for "The New York School"—a poem whose process was quite different from "As I Write This." Maybe I'll call it "Totally Fucked," or "The Shittiest and Best Shamefulness of My Still-Learning Heart, by Joseph Bradshaw."
I'm a very good multi-tasker. At work, I can juggle many different things. At home, I can simultaneously make dinner, talk on the phone, and clean the kitchen, but when it comes to reading, I know my limitations. I can only read one book at a time. Nothing else in my day is allotted so much undisturbed focused time. I read first thing in the morning for one hour. Each day my book awaits me. If I am about to finish one, another is on deck. Usually, the books are chosen because, they relate to something I'm writing and will possibly inspire me to take the next step in my morning routine, that is, to sit at my desk for a brief hour and work on my own fiction.
In the last two months the 5 books I have read or am planning to read are as follows:
The Enormous Room e.e. cummings (on deck)
Abroad: An Expatriate's Diary by Harriet Sohmers Zwerling. Sometimes I don't get to read books that my own press publishes. This one made it right passed me, but the subject matter, a young independent woman traveling in bohemian circles in Paris in the 1950's, is perfect reading material.
Gone Girl by Gillian Flynn. I always like to research the number of narrative elements readers will believe and what elements can make a book a bestseller
Let the Dark Flower Blossom by Norah Labiner. I am trying to raise (or lower) the bar when it comes to book reviews, by making reviews less tedious to read, and was asked to write a review of this book for Drunken Boat
The Circle by Dave Eggers. To inspire me to continue writing my own dystopian comedy and ensure that we haven't written the same book.
This week's fascinating vintage poetry piece requires a bit of background in order to fully appreciate it for its uniqueness and depth. Jehanne Dubrow's "Fragments from a Nonexistent Yiddish Poet," originally published in DB 10, Summer 2009, is not what it first appears.
"these winters in Galicia,
the Sabbath bride         arrives
by four, adorned in her greatcoat
of snow and sleet, the wind sharpening
its nails against the roof."
Posing as translated poetry from a little-known early 20th century writer named Ida Lewin, Dubrow's "fragments" of Lewin's poetry are actually her own original content. Dubrow's "Nonexistent Poet" pieces have also been published in online journals such as Blackbird Archive.
Jehanne Dubrow is the author of four poetry collections. She currently lives in Maryland, where she serves as the Director of the Rose O'Neill Literary House and is an assistant professor of creative writing at Washington College. For more information on Dubrow, visit her website here.
Click to read "Fragments from a Nonexistent Yiddish Poet"
You know that Beatles song With A Little Help From My Friends?  "I get by with a little help from my friends," Ringo intones in that understated baritone, "I get high with a little help from my friends."  The rhyme provides an impromptu equivalence relevant to the structure of contemporary stoner comedy.  The juxtaposition of "getting by" and "getting high," suggests that weed smoking directly benefits the stoney agent, helping him or her (and their buddies) survive and, indeed, flourish.
Weed smoking is versatile with respect to its scene of appearance.  While almost nothing is more enjoyable than a night in one's apartment, sucking on smoldering glass while a quesadilla melts on the stove, smoking pot can also be an excellent opportunity for collective social engagement.   The "friend in need" is a constant trope in stoner comedies that I have seen.  As these films present their protagonists with crises (in urgent need of resolution by the end of the "long day of the stoner comedy"), they also frequently suggest that the optimal way to solving these problems is by buddying up.
While there are some interesting friendships in Odyssey, Homer's theory of friendship is modeled by Achilles and his homie/lover/friend Patroklos in Iliad.  Their friendship influenced later models of friendship in that it suggests that the friend is "another self."  The implication of this "other self" is that in friendship one is both stronger (by being doubled) but also weaker (in that one's autonomy is diffused between two bodies.)  And the friendship of Achilles and Patroklos bears both of these consequences out.  The Achaeans' ultimate victory in the Trojan War is guaranteed by the fact that Patroklos's death causes Achilles to blatantly disregard his own wellbeing.  The cost is of course that both men end up biting the black dust, hateful night enclosing their eyes and so on.
There is another powerful classic paradigm of friendship.  And that is the dynamic duo of Harmodius and Aristogeiton.  Harmodius and Aristogeiton were best buds who murdered the tyrant Hipparchus, effectively ushering in Greek democracy.  They, naturally, were executed as a consequence, but their solidarity became paradigmatic.  Their tale reminds us that friendship, from the golden age of Greece until now, can be a powerful revolutionary tool.  And it's for that reason that capital wars against it.  For us who are indebted, alienated by our labor, increasingly siloed from our colleagues and comrades, overworked, urged to establish the family at the expense of the friend relationship—these fixtures aid and abet an ongoing assault against forms of friendship and friendship as a way of life.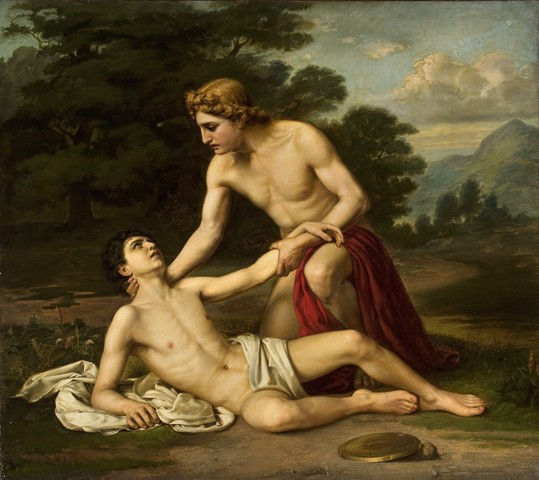 In stoner comedies that I have seen, friendship is frequently the key to solving the problems the protagonists face: problems, as we've seen, that often situate the protagonists, like Harmodius and Aristogeiton, against the agents of sovereignty.  And while these films thus valorize the power and possibility of friendship against all the forms of dominion which strive to ruin our lives, this has to be admitted with two caveats.  One is that the vast majority of these films, like much of the history of the theory of friendship, only privilege a particular homosocial relationship, that is, friendship between two men.[1]  Secondly, the friendships in these films are not totally beneficial arrangements.  While it's friendship which permits the buddies to "get by" while they "get high," it's often the friend's own errors which bring about the problems in the first place.
Almost all stoner comedies feature buddies who oppose a world of squares, but consider for now the Harold and Kumar trilogy.  Harold and Kumar Goes To White Castle (2004, dir. Danny Leiner) begins with a key departure from the form of most stoner comedies in that it begins not in the morning, but at the very end of the workday.  After Harold's boss forces him to take a weekend's worth of work home with him, he and his best friend Kumar relax by smoking an enormous amount of pot.  While they watch television—with all the amazement and laughter such an activity brings about while so stoned[2]–they see an ad for White Castle.  Inspired, their odyssey begins, White Castle their gleaming Ithaca.
As is to be expected, their seemingly simple objective is repeatedly diverted.  And, as in most stoner comedies, their antagonists arrive in the form of the law (trying to buy pot on Princeton's campus the pair are chased by campus security, and Harold is later jailed by a racist pig) and their self-imposed somatic challenge (these two are really high and make poor decisions.)  But the narrative is also marked by a leitmotif whereby Kumar's antics result in some sort of insult and/or injury to Harold.
This scheme of simultaneous aid and sabotage is perhaps even more strongly expressed in the sequel, Harold and Kumar Escape From Guantanamo Bay (2008, dir. John Hurwitz).  While Kumar's bad decisions are the catalyst for the spectacular events which divert the guys from their goal (this time they're headed over the rainbow to Amsterdam, Oz for potheads), Guantanamo Bay more explicitly contextualizes the figures of authority as metonyms of a racist superstructure.  No one denies that Kumar ought not have smuggled weed aboard the transatlantic flight with a homemade bong.  But it's the racist white supremacists aboard the plane who misrecognize Kumar's ethnicity and fantasize about his motives, mirroring the misrecognitions which occur later with law enforcement and homeland security officers.  Again, in the end, it's their collective effort, fraught but indispensable, that manages to redeem them.[3]
In Odyssey, as we have seen, much of the journey Odysseus makes from Troy to Ithaca is undertaken alone.  And while there are many instances whereby mutual aid among his crew permits him to survive another adventure, his comrades, like Kumar, tend to fuck up in some way, whether they become lunch for a Cyclops or linger too long with those chillaxed lotos eaters.  But when Odysseus returns to rocky Ithaca, there is still a crisis which awaits resolution, and that's when something like a friend comes in, to help him get by if not high.
His wife Penelope has been constantly besieged by a palace full of asshole suitors.  While Odysseus has been desperately overcoming hijink after hijinks on his way home, the suitors have eaten his fat sheep, drank his unmixed wine, openly hit on Penelope and threatened his son Telemakhos.  For Odysseus to get rid of these jerks, he depends on the help of a few of his friends.
When Harold and Kumar finally reach White Castle in Harold And Kumar Go To White Castle, their meal is beyond excessive, their slow-motioned eating almost erotic, set to music, grotesque, expansive.  I like to imagine Odysseus and Telemakhos like that, sitting in that big hall, surrounded by suitor blood and gore, the wails of the dead finally dissipating from their ears.  Odysseus passes around a big blunt, both of them inhale, hold, and sigh.  Victorious at last.
Next time, I'll conclude this series with a look at Gregg Araki's classic Smiley Face.
- BRANDON BROWN
Brandon Brown is the author of three books of poetry, most recently Flowering Mall.  He writes about art and culture for Open Space, the magazine and blog of the SFMOMA and Bay Area journal Art Practical.  He is an editor at Krupskaya, and occasionally publishes small press materials under the imprint OMG!  In 2014, Big Lucks will publish a new book, Shadow Lanka.
---
[1] It's worth reminding the reader here that in stoner comedies, the gags which adorn the movement of the characters from point A to point B are often hideously racist, sexist, homo- and transphobic.   It is only with the arrival of Smiley Face (2007, dir. Gregg Araki) that this paradigm is challenged and overcome.  But that is the subject of our finale.
[2] Indeed, such scenes are basically metanarratives for the situation of the viewer him/herself, who is often watching stoner comedies while baked.
[3] Without spoiling the plot, I'd be remiss not to note that Harold and Kumar Escape From Guantanamo Bay also stands as the first film depicting a sitting president smoking weed.
This week's truly unique selection comes straight out of DB 8, one of many notable works featured  in this issue of Panliterary Award competitors. As the winner of the sound category, "Variations on a theme by Casey & Finch" is probably best explained by category judge Paul Miller:
"Based on the concept of a skipping CD, this piece is comprised of the samples from the chorus line of the KC and the Sunshine Band hit "That's the Way I Like It" chopped up into small fragments, rearranged, scored for a 10 piece band, and then played and recorded live. Innovative and executed perfectly, it displays both depth of conceptual insight and musical precision."
Erik Bünger is a Swedish artist, composer, and writer living in Berlin. His work revolves around the human voice and its contradictory relationship to the body, to language, to music and to technology. To see and hear more of his work, check him out at www.erikbunger.com
Click to listen to "Variations on a theme by Casey and Finch"