Alma Reville, Alfred Hitchcock's wife, posing with her hubby's head in the fridge. Well… a prop of him anyway…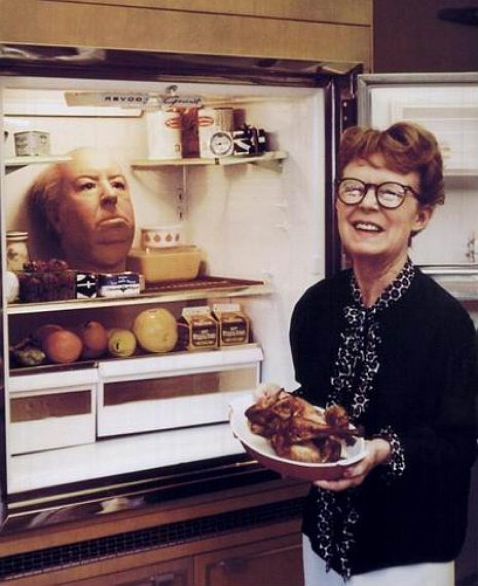 We've got some awesome folks joining Nonfiction Editor Heather Bryant and veteran readers Amanda Dambrink (our new Assistant Nonfiction Editor) and Christina Saraceno.
Erin Wilcox, our other new Assistant Nonfiction Editor, is a writer, poet, musician, and freelance editor. Erin formerly worked for Alaska Quarterly Review, and helped judge the 2011 Kore Press Short Fiction Award, as well as the Poem A Day Challenge on Writer's Digest's Poetic Asides blog. She founded the Arizona chapter of the Editorial Freelancers Association in 2007, and has served on the EFA Board of Governors since 2008. Erin's writing has been featured in Soundzine, Stoneboat, Cold Flashes: Literary Snapshots of Alaska, Veil: Journal of Darker Musings, and in radio broadcasts including KXCI Tucson's A Poet's Moment, Broad Perspectives, and Alaska Public Radio's AK Radio. She writes about writing for various magazines, including Copyediting and TEXT: Journal of Writing and Writing Courses. Details about her editorial practice are available at >wilcoxediting.com.
Jeanie Chung's fiction and essays have appeared or are forthcoming in upstreet, Stymie, Numero Cinq, Drunken Boat, and the Main Street Rag sports anthology, among others. She is a graduate of the MFA in Writing program at Vermont College of Fine Arts. She lives in Chicago, where she is at work on a novel-in-stories inspired by her former career covering high school and college sports for the Chicago Sun-Times. Read her in DB#12.
Nina Feng's writing has appeared in Alaska Quarterly Review, Upstreet, PANK, and Wigleaf. She is currently living in New Orleans, working on her first book of nonfiction.
Cannon Roberts is currently working on his PhD in creative writing at Oklahoma State University. He received his master's in creative writing at Binghamton University. In between those two, he taught creative writing (and other English courses) on three different prison campuses in Gatesville, Texas. His experience was nothing like Oz or The Shawshank Redemption but was a little like the third season of My Name is Earl. His fiction has appeared in The Concho River Review, Grimm Magazine, and Miranda Literary Magazine. His nonfiction has appeared in The Paradigm Exchange.
+8, a non-profit organisation that aims to promote Taiwanese contemporary art in the UK is holding London's first exhibition of Taiwanese contemporary art.
We like COLAGE. They're a national movement of people with one or more queer and/or trans parents, and they do a lot of great work educating, empowering, and advocating for social justice. And they're having a mixer fundraiser, which looks like a lot of fun.
Where? Babeland, 43 Mercer Street, NYC.
When? Sunday May 22, 7:30-10pm
Tickets? $18 gets you in with 2 drink tickets, a raffle ticket, and 10% off anything at Babeland. And it's supporting a good cause.
Click here for more info and tickets.
via C-Monster.